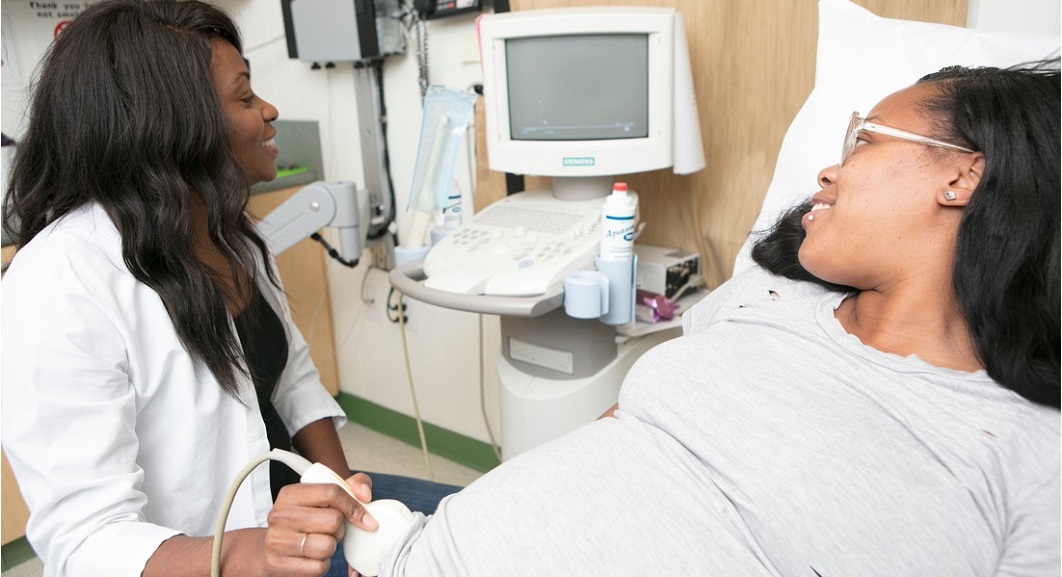 La Clínica's Women's health services includes care of OBGYN concerns from adolescence through the elder years. These services are provided by OBGYNs, Family Practice Doctors, Certified Nurse Midwives, Physician Assistants, and Nurse Practitioners.
We have a large pregnancy care program and supplement our patients' prenatal visits with health education, nutrition and WIC, social work, and childbirth preparation classes. We offer the option of "Centering Pregnancy" (group prenatal care) or traditional individual care at some sites. After birth, we take care of both the mother and child. We offer postpartum and newborn visits, family planning, breast feeding support, and counseling. All of these services are provided in a supportive environment in the patient's own language whenever possible.
LA CLINICA's PREGNANCY AND POSTPARTUM SERVICES DURING COVID-19:
Think you might be pregnant?
During the pandemic, if you think you might be pregnant, please purchase a home pregnancy kit at any drug store and then call us to schedule a follow up appointment. La Clínica offers counseling about pregnancy options and robust prenatal care.
Pregnancy care at La Clinica during COVID-19
We will do everything we can to support your healthy pregnancy and postpartum period. Currently, no prenatal group visits are offered (Centering). If you don't require labs or an ultrasound at your visit, your early pregnancy visits will be by telephone.
Hospital changes:
Only one visitor: You can only bring one person to the hospital with you, and it has to be the same person the entire time you are there. No other family or friends can come visit when you are in labor or after the baby is born.
Home after delivery: Unless you have a cesarean birth, or you have complications, you will likely go home the day after you have your baby. If everything is normal, you are safer to be at home with your new baby than to stay another day in the hospital.
Postpartum support:
We will call you: If you go home the day after you have your baby, a provider from La Clínica will call you to make sure that you are doing well and to answer any questions that you have.
Well baby visit in 1-2 days: If your baby's doctor is at La Clínica, you will usually have a visit for the baby within 1-2 days of going home. Our staff will be available to help you with breastfeeding at that time.
Support calls: You may receive calls from our staff 1-2 weeks after the birth, to offer breastfeeding support and connect you to resources such as food, housing or emotional support services.
Services
Preventive health care
Family Planning
Pregnancy Care
Breast feeding support & counseling
Sexually transmitted infections testing and treatment
Vaginal, urinary and pelvic infections
Urinary incontinence
Sexual health education
Menstrual problems
Menopause issues
Osteoporosis screening and treatment
Nutritional Assessments, Health Education and Social Service support