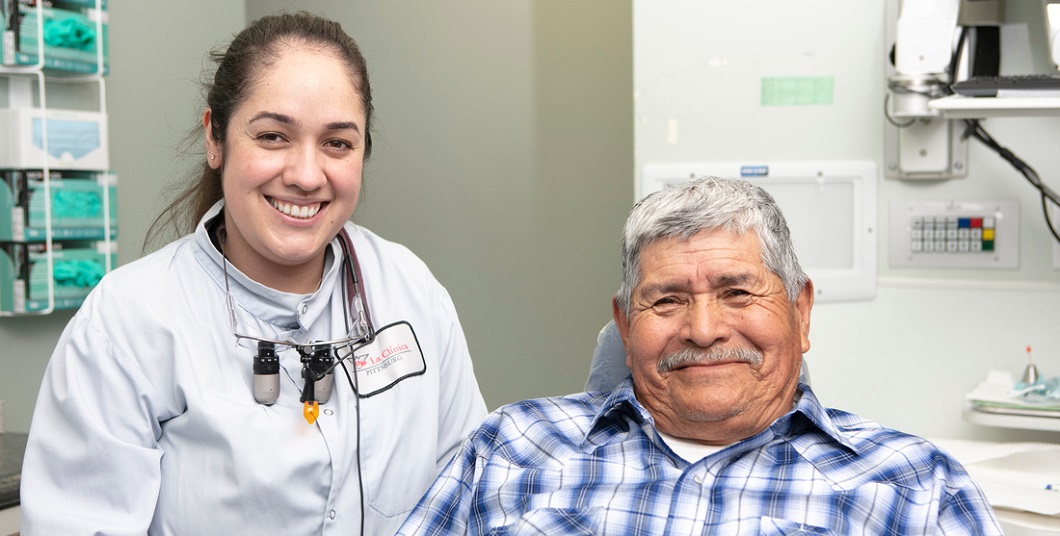 Having a workforce that understands the community leads to better health outcomes for patients.
Through La Clínica's partnership with the NYU Langone Advanced Education in General Dentistry program, dental residents receive valuable training and experience at our sites providing equitable and affordable dental care for a variety of patients including in culturally diverse patient populations and patients with special needs.
This NYU Langone program, administered in California through UCSF, allows residents to hone the skills of postdoctoral dental practitioners by successfully completing a number of supervised procedures in general dentistry. Residents hosted at La Clínica often exceed their minimum requirements, not only because of the overwhelming community need, but also because of the opportunity to learn from dental specialists to perform specialty procedures. As a result, program participants extol the exposure they get to community dentistry and the experience often becomes a commitment to serving the community as a career choice. As a testament to the model's effectiveness, the last two residents who were trained through this program are now employed full-time by La Clínica: Dr. Tessa McGregor at the Monument Dental Clinic in Concord and Dr. Guadalupe Madrigal, page 7, at the Pittsburg Dental Clinic.
As a kid I was in the dental chair all the time.
I had a lot of issues: cavities, problems with my teeth, infections, you name it. But it was those experiences, plus my interest in science and wanting to be of service to people, especially underserved populations, that brought me to La Clínica. I knew I was interested in health care so I decided to pursue dentistry. As part of my training at UOP dental school, I had the opportunity to spend time working at La Clínica on Fruitvale. It was an invaluable experience for me because it taught me so much more about working with people. I am convinced that the confidence I have today as a dental practitioner can be traced back to my community level work with La Clínica.
— Guadalupe Madrigal, DDS, former NYU Dental program resident and current La Clínica dentist