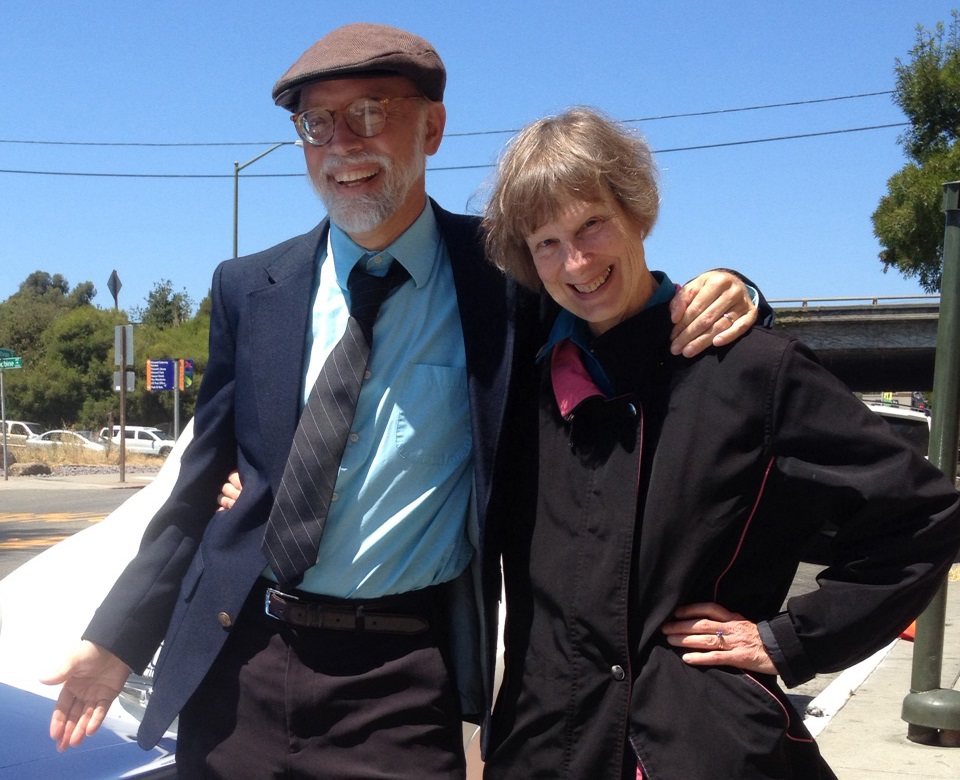 After 27 years of service to La Clínica, Joan "Juanita" Thompson will retire on November 1. Joan's career trajectory has taken many turns. She started out in laboratory research with a PhD in molecular and cell biology, and ended up counseling patients and developing very low literacy educational materials. After a short teaching stint at Cal State University Bakersfield, she had several volunteer experiences working with indigenous groups of Guatemala, Salvadoran refugees in the refugee camps, Catholic nuns in Bolivia, and pursued a master's degree in Christian Studies.
After years on the front lines of the sanctuary movement, Joan answered the call to put liberation theology into practice and went to El Salvador to train Promotores de salud who lived in the conflict zone. Upon her return, she earned a Master of Public Health Nutrition and did one of her internship rotations at La Clínica. It was at that point Joan realized that she could serve marginalized communities here in the States, without going to Latin America, and she has dedicated the last 27 years of her career to serving the La Clínica community.
In the late 1990s, Joan was tapped to be part of a team, headed by then-Medical Director Khati Hendry, to improve the care of patients with diabetes with the CDC's Diabetes Collaborative. She was introduced to quality improvement concepts and PDSAs, a tool used for documenting and testing a change.
"I ate, drank, and slept PDSAs. On the flight home I was so jazzed I wrote up tons of PDSAs for our committee. It was Khati's trust in me that helped me to do the work with a passion. It's not research per se, but data collection and analysis will always fascinate me," Joan said.
Following the CDC's Diabetes Collaborative, Joan played a pivotal role in the Diabetes Prevention Collaborative at La Clínica. This work then led to another project, the Advancement of Diabetes Self-Management Initiative, funded by the Robert Wood Johnson Foundation.
Joan took a deep dive into the study of behavior change as La Clínica used health promotors to maintain phone contact with people who struggled to control their blood sugar. This turned out to be La Clínica's first foray into what would become panel management.
In addition to Joan's many contributions to quality improvement and research, she has been a prolific producer of high quality nutrition trainings and low-literacy educational materials for patients.
While the low-literacy "Live Your Life" diabetes manual holds a special place in her heart, she has produced an extensive list of low literacy materials used by staff across La Clínica. Some of her most recent contributions, include infographic handouts on basic nutrition topics for providers, and an entire CDC Prediabetes curriculum that she converted into low-literacy infographics.
One humorous story she shares was when she was nearly fired for insisting on feeding a stray cat. "When we were in the [trailer] behind 1501 [Fruitvale], a mama cat came by every morning for breakfast. Mama cat experienced food insecurity, so I willingly provided a can of tuna. I was also on a mission to domesticate Mama by gradually approaching her and petting her. It was working. Then my supervisor before Anna Dorman told me that if I didn't quit feeding the cat, I would lose my job. Mama, and one of her babies, eventually got adopted by Scott Taylor, RN."
Deeply respected and well loved by patients and staff, "Juanita" will be greatly missed. But her legacy will clearly live on, in the many patients and staff whose lives she's touched, in the research she's done in La Clínica's name, and in the vast treasure trove of practical tools she has created for all of us to use.
Thank you Juanita!